Gillette Case Study
Gillette knows men. Not only does the company understand what products men desire for their grooming needs, it also knows how to market to men all around the world. Sin the invention of the safety razor by King C. Gillette in 1901, Gillette has had a number of break-through products innovations. These include the first twin-blade shaving system in 1971 name the Trac II, a razor with a pivoting head in 1977 called the Atra, and the first razor with spring-mounted twin blades in 1989 dubbed the Sensor. In 1998, Gillette introduced the first triple-blade system, Mach3, which became a billion-dollar brand surpassed only by the 2006 launch of the "best shave on the planet" – the six-blade Fusion, with five blades in the front for regular shaving and one in the back for trimming.
Today, Gillette holds a commanding lead in the shaving and razor business with a 70 percent global market share and $7.5 billion in annual sales. Six hundred million men use a Gillette product every day, and the Fusion razor accounts for 45 percent of the men's razors sold in the United States. Gillette's mass appeal is a result of several factors, including extensive consumer research, quality product innovations, and successful mass communications.
While Gillette's product launches have improved male grooming, it's the company's impressive marketing knowledge and campaigns that have helped it reach this international level of success. Traditionally, Gillette use one global marketing message rather than individual targeted messages for each country or region. This message is backed by a wide spectrum of advertising support, including athletic sponsorships, television campaigns, in-store promotions, print ads, online advertising, and direct marketing.
Gillette's most recent global marketing effort, "The Moment," launched in 2009, is an extension of its well-recognized campaign, "The Best a Man Can Get." The campaign features everyday men as well as the Gillette Champions – baseball star Derek Jeter, tennis champion Roger Federer, and soccer great Thierry Henry – experiencing moments of doubt and Gillette's grooming products helping the gain confidence. The campaign was designed to help Gillette expand beyond razors and shaving and increase sales of its entire line of grooming products. The massive effort launched around the globe included television, print, online, and point-of-sale advertising.
Another crucial element in Gillette's marketing strategy is sports marketing. Gillette's natural fit with baseball and tradition has helped the company connect emotionally with its core audience, and its sponsorship with Major League Baseball dates to 1939. Tim Brosnan, EVP for Major League Baseball, explained, "Gillette is a sports marketing pioneer that paved the way for modern day sport sponsorship and endorsements." Gillette ads have featured baseball heroes such as Hank Aaron, Mickey Mantle, and Honus Wagner form as early as 1910.
Gillette also has ties to football. The company sponsors Gillette Stadium, home of the New England Patriots, and is a corporate sponsor of the NFL, making four of its products, Gillette, Old Spice, Head & Shoulders, and Febreze, "Official Locker Room Products of the NFL." Gillette's
partnership includes sweepstakes to win NFL game tickets, Web site promotions, and ties to the NFL, such as the presence of some NFL players in its commercials. Gillette also sponsors several NASCAR races and drivers and the UK Tri-Nations rugby tournament. It even created a Zamboni at the Boston Bruins game that looked like a huge Fusion razor shaving the ice.
While sports marketing is a critical element of Gillette's marketing strategy, the brand aims to reach all men and therefore aligns itself with musicians, video games, and movies – in one James Bond film, Goldfinger, a Gillette razor contained a homing device.
When Proctor & Gamble acquired Gillette in 2005 for $57 billion (a record five times sales), it aimed for more than sales and profit. P&G, and expert on marketing to women, wanted to learn about marketing to men on a global scale, and no one tops Gillette.
1. Gillette has successfully convinced the world that "more is better" in terms of number of blades and other razor features. Why has that worked in the past? What's next?
2. Some of Gillette's spokespeople such as Tiger Woods have run into controversy after becoming endorsers for the brand. Does this hurt Gillette's brand equity or marketing message? Explain.
3. Can Gillette ever become as successful at marketing to women? Why or Why not?
吉列案例研究
吉列知道男人。不仅该公司了解产品的人渴望自己仪容的需求,它也知道如何推销到世界各地的人。犯罪国王C.吉列安全剃刀的发明于19xx年,吉列已经有了一些突破,产品创新。这些措施包括第一双刀片剃须系统于19xx年名的Trac II,具有旋转头剃须刀在19xx年被称为全反式维甲酸,并用弹簧式双叶片的第一剃刀在19xx年被称为传感器。 19xx年,吉列公司推出了第一款三重刀片系统,Mach3的,这成为一个数十亿美元的品牌只有超越了20xx年推出的"在这个星球上最好的剃须"的 - 六刃融合,有五个刀片的前面经常剃须,一个在后面进行修剪。
今天,吉列持有剃须和剃须刀业务指挥主角以70%的全球市场份额至75十亿的年销售额。六百万人使用吉列的产品每天都和融合剃刀占美国销售的男子剃须刀的45%。吉列的群众号召力的几个因素,其中包括广泛的消费者研究,产品质量创新,成功的大众传播的结果。
而吉列的产品的推出有所改善男性仪容,这是该公司的令人印象深刻的营销知识,并且帮助它达到这个成功的国际级活动。传统上,吉列使用一个全球性的营销信息,而不是为每个国家或地区的个别针对性的信息。此消息是由广泛的广告支持频谱,包括运动赞助,电视宣传,店内促销,平面广告,网络广告,直接营销支持。
吉列的最近期的全球市场推广力度,"目前,"在20xx年推出,是其广受认可活动的延伸,"最好的一个人可以得到"运动功能日常生活男人和吉列冠军 - 棒球明星德里克杰特,网
球冠军费德勒,和足球伟大的亨利 - 经历了怀疑,忧虑和吉列的护理产品帮助获得信心。该活动旨在帮助吉列扩大超出剃须刀和仪容产品,其整个产品线的剃须和增加销售。在全球各地开展了大规模的努力,包括电视,平面,网络,以及销售点的广告。
在吉列的营销战略的另一个关键因素是体育营销。吉列的天然契合棒球和传统,帮助该公司与它的核心受众情感连接,并赞助与职业棒球大联盟日期至19xx年,蒂姆·布鲁斯南,执行副总裁为美国职棒大联盟,解释说,"吉列是一个体育营销的先驱铺平了方式为现代体育赞助和代言。"吉列的广告有特色的棒球英雄,如汉克阿伦,米基曼特尔和Honus瓦格纳早在19xx年形成。
吉列也有关系到足球。该公司赞助吉列体育场,主场的新英格兰爱国者,是NFL的企业赞助,使得四家的产品,吉列,老香料,海飞丝,和的Febreze中,"NFL的官方更衣室产品。"吉列公司的合作伙伴包括抽奖赢得NFL比赛门票,网站推广,并关系到NFL,比如一些NFL球员在其广告的存在。吉列公司还赞助一些NASCAR赛车和车手和英国三国家橄榄球比赛。它甚至建立了一个赞博尼在波士顿棕熊队比赛,看起来像一个巨大的融合剃刀刮冰。
而体育营销是吉列的营销策略的一个关键要素,品牌的目标是达到所有的人,因此与音乐家,视频游戏和电影赞同 - 在一个詹姆士·邦德影片,金手指,吉列剃须刀包含寻的装置。
当宝洁收购吉列在20xx年以$ 57十亿(创纪录的五次销售),其目的多的销售和利润。 P&G和专家营销妇女,想了解市场营销的人在全球范围内,也没有人顶吉列。
1,吉列公司已经成功地说服了世界,在刀片和剃刀等功能的数量方面"越多越好"。为什么说曾在过去?下一步是什么?
2,部分吉列的代言人如老虎伍兹成为广告代言人,为品牌后,遇到了争议。这是否伤害了吉列的品牌资产或营销信息?解释。
3,可吉列成为有史以来在营销妇女成功?为什么或为什么不呢?
第二篇:Gillette Case Study 案例分析 35200字
S w
905M26
GILLETTE'S ENERGY DRAIN (A): THE ACQUISITION OF DURACELL1
Professor Frank C. Schultz and Michael T. McCune prepared this case solely to provide material for class discussion. The authors do not intend to illustrate either effective or ineffective handling of a managerial situation. The authors may have disguised certain names and other identifying information to protect confidentiality.
Ivey Management Services prohibits any form of reproduction, storage or transmittal without its written permission. This material is not covered under authorization from CanCopy or any reproduction rights organization. To order copies or request permission to reproduce materials, contact Ivey Publishing, Ivey Management Services, c/o Richard Ivey School of Business, The University of Western Ontario, London, Ontario, Canada, N6A 3K7; phone (519) 661-3208; fax (519) 661-3882; e-mail cases@ivey.uwo.ca.
Copyright ? 2004, Ivey Management Services Version: (A) 2008-08-27
It was February of 2001, and James Kilt, newly elected chief executive officer (CEO) of Gillette, was preparing for his first strategy session with Gillette's board of directors. Kilt pondered what actions to propose in order to satisfy the board, as well as investors, that he had an effective turnaround plan for Gillette's Duracell division.
Kilt, 52, had been the president and CEO of Nabisco just one week previously and was widely credited with dramatically increasing its performance. Gillette's board, which included investor Warren Buffett, hired Kilt to take charge of a company that "had gone nowhere for four years."2 Gillette's stock price, at $34, had fallen 45 per cent since its high in 1999.
Kilt's biggest challenge in the strategy session, which was just two weeks away, was to lay out a plan for Duracell. Gillette had originally acquired Duracell in September of 1996 for $7.3 billion in stock. Gillette's earnings had been growing at 17 per cent annually for the six years prior to the acquisition. "People are going to be surprised by how well we do," stated then CEO, Alfred M. Zeien in regard to 1This case has been written on the basis of published sources only. Consequently, the interpretation and perspectives presented in this case are not necessarily those of Gillette or any of its employees. 2Banc of America Securities analyst William Steele.
9B05M026
the acquisition, "[Duracell will] make the next five years [at Gillette] even better than the last five."3
THE GILLETTE COMPANY4
When King C. Gillette founded the Safety Razor Company in 1901 in a small office located over a fish store in Boston, he sold only 58 razors and 168 blades in his first three years of operation. One century later, the company that still carries his name totalled more than $9.2 billion in revenues in 2000. During those 100 years, Gillette became one of the most recognizable name brands from the United States to Europe to the Far East. Even as early as 1926, King C. Gillette said of the safety razor that he invented, "There is no other article for individual use so universally known or widely distributed."
Gillette has introduced a number of new razor shaving systems during the last 30 years, beginning with the Trac II shaving system in 1971 and followed by a new system in 1977 known as the Gillette Atra. Between 1977 and 1988, new disposable razors with pivoting heads and twin blades were introduced along with an updated version of the original Trac II razor. Then, in 1990, the company introduced the Sensor shaving system and followed its release several years later with the Sensor Excel and the Sensor for Women. In 1998, Gillette brought another new shaving system to the market — the Mach3 razor. In 2001, the Mach3 and the Sensor were the top two shaving systems in the United States.
During its first 100 years, Gillette diversified its businesses to include more than razors. At the beginning of 2001, the Gillette Company comprised four distinct business segments: personal-grooming products, small appliances, oral care products and portable power.
The personal grooming segment included men's and women's razors, shaving creams and lotions, and deodorants. In this segment, Gillette operated under the name brands of Gillette, Right Guard, Soft & Dri and Dry Idea. In 2000, Gillette ranked fifth in personal care manufacturers. It has been the world leader in shaving products over the last century, holding a 77.2 per cent market share in the razor blade refill market and 52.4 per cent market share in the disposable razor market. Gillette had become the world's second largest deodorant producer, behind Proctor & Gamble. In 2000, personal grooming products generated $4.385 billion in revenues. This segment also accounted for $1.42 billion of Gillette's operating margin (see Exhibits 1 and 2 for Gillette Company's balance sheets and income statements; Exhibit 3 for the stock price performance of Gillette, ticker symbol "G").
3
4Portions of this section adapted from the Gillette Company website: .
9B05M026
In the area of small appliances, Braun became part of the company in 1964. Some products that carried the Braun logo were electric razors, coffee makers and hair dryers. In 2000, Braun held 16 per cent of the men's electronic shaver market and ranked fifth in the production of coffee makers. This segment produced total revenues of $1.65 billion in 2000 and an operating margin of $218 million.
Gillette was also involved in the oral hygiene market since its acquisition of Oral-
B laboratories in 1994. Oral B and Braun combined their capabilities to create the best selling powered toothbrush, the Braun Oral-B 3D. In 2000, Oral-B generated $676 million in revenues for Gillette, along with a $75 million profit margin.
In the portable power segment, the company acquired Duracell, the United States' leading producer of alkaline batteries, in 1996. In 2000, Duracell accounted for $2.6 billion of Gillette's total revenues and $439 million of its total operating margin.
Gillette also had a stationery division during a large portion of its history, mainly consisting of Paper Mate, which manufactured pens and other similar items. Gillette sold this division to Newell Rubbermaid for a loss of $428 million in 2000.
THE ACQUISITION OF DURACELL
During the later half of the 20th century, the Gillette Company diversified into a number of businesses. Its acquisitions ranged from Paper Mate to Braun to Oral-B. During the 1990s, it was rumored that Gillette was seeking another product line that would fit well within its current worldwide distribution network and would offer significant market growth. In September of 1996, Gillette announced the purchase of the Duracell Corporation for $7.3 billion in stock. The purchase was overwhelmingly approved by Gillette stockholders at an annual meeting in December of the same year. The acquisition was highly regarded in the investing community as well with investment analyst Connie Maneaty, who stated, "This is a brilliant deal for Gillette. The opportunity to take two global franchises like Gillette razors and Duracell batteries comes along so infrequently."5
Before its acquisition by Gillette, Duracell had been the leading producer of alkaline batteries in the United States. Between 1991 and 1996, the company had experienced consistent growth in revenues of about eight per cent per year and had increased total revenues by 46 per cent during that time frame. The company also increased operating margins by more than 75 per cent. At the time, 20 per cent of Duracell's sales were outside of the United States. In 1996, 37 per cent of William M. Bulkely, "Duracell Pact Gives Gillette an Added Source of Power — Purchase of Battery 5
9B05M026
Gillette's revenues came from the United States; 32 per cent from Western Europe; 11 per cent from Latin America; and 20 per cent from other global areas.
The Gillette Company was known for its solid relationships with vendors around the world, especially drug stores and retailers. Analyst Amy Low said at the time of the merger, "There's a perfect fit between the two companies in terms of channels of distribution."6 Gillette was determined to make a smooth transition for Duracell and its employees. Charles R. Perrin, the chairman and CEO of Duracell at the time of the acquisition, was offered a job at Gillette as head of Duracell operations. Gillette also offered generous departure terms for any Duracell employee whose job would be eliminated because of the combination. At the time of the acquisition, the restructuring of Duracell was estimated to result in cost savings of $80 million to $120 million per year.
BATTERIES AND THE BATTERY INDUSTRY
A battery is simply an electrochemical container of stored energy that is used on demand. The use of batteries can be traced back to as early as the late 18th century when Alessandro Volta began to experiment with zinc and silver plates. He would create what would become the world's first dry battery, in which solid metals interacted with each other to create a chemical reaction. Soon after, Georges Leclanche developed the first working battery, which was widely used in the telegraph system. His "wet cell" battery, which used a liquid substance to create a chemical reaction, was contained in a porous pot and was the prelude to what would become the zinc-carbon battery. Since then, most batteries used in today's society are dry cell batteries including the familiar alkaline battery that, as an industry, generated $2.6 billion in U.S. domestic sales in 2000.
Batteries can generally be divided into two separate categories: primary and secondary. It is important to note that these categorizations do not necessarily refer to a battery's use in a device. Instead, they mainly refer to the battery's ability to be recharged. Primary batteries could not easily be recharged so they were made for one-time use; once the battery had discharged its energy, it was discarded. On the other hand, secondary batteries were those that could be recharged multiple times over the course of their life. Primary and secondary batteries each offered their own advantages and disadvantages. Primary batteries tended to hold their charge for longer amounts of time and were less expensive than secondary batteries. However, secondary batteries had a higher energy density and were more usable in extreme temperatures. The difference between these batteries often came down to their applications.
Primary batteries mainly consisted of alkaline and zinc-carbon cells. Companies such as Duracell and Energizer concentrated on the disposable market because 6Ibid.
9B05M026
they believed that consumers were more apt to want a convenient, no hassle, portable power source. Alkaline batteries became the standard in the United States due to the fact that they lasted six times longer than the outdated zinc-carbon. However, in countries outside the United States, zinc-carbon batteries still held a majority of the market share. Conversion to alkaline outside the United States was much slower than originally expected, and hindered international sales of some U.S. battery companies. For example, in India, alkaline batteries made up only three per cent of the battery market compared to 70 per cent in developed countries. This has been attributed to tough economic conditions and the high cost of building new battery manufacturing facilities capable of handling the production of alkaline batteries.
The secondary battery market also had a variety of different types of batteries. This battery market consisted of lead-acid, nickel-containing (NiCd and NiMH), and lithium-ion batteries. Lead-acid batteries were most commonly found in automobiles and other transportation uses. Nickel-containing and lithium-ion batteries were used in electronic consumer products that utilized a rechargeable battery. Lithium batteries have increased in popularity for high drain devices such as laptop computers and cellular phones due to their high energy density and weight. However, most other rechargeable consumer products used a nickel-containing secondary battery.
Batteries also came in a variety of sizes and shapes. The International Electrotechnical Commission was responsible for creating standardized numbers for the different sizes of batteries; these numbers incorporated both a battery's size and electrochemical makeup. These standardization codes differed from those often printed on a manufacturer's packaging. Although the American National Standards Institute's designations for batteries officially no longer existed, they were still used by manufacturers for battery labelling in relation to their size. For alkaline batteries, the most popular sizes that were available on the market were AAA, AA, C, D and 9-Volt. The AA size accounted for almost half of all alkaline battery sales. (Exhibit 4 shows dollar sales volume by battery size in 2000). Other primary battery types in use today included miniature batteries used for hearing-aids and electronic watches.
It was estimated by industry experts that about 75 per cent of all alkaline battery sales were a result of impulse purchases.7 Batteries ranked as 25th in sales in the top 200 products of general merchandise/health and beauty aids for retailers. The distribution of alkaline batteries occurred through three main channels in the United States: supermarkets, drug stores and discounters. These retailers often marketed alkaline batteries at impulse buying locations such as the checkout lane and then complemented those with other displays in separate departments. An unidentified director of marketing services of a battery supplier has said, "It's 7Mass Market Retailers (MMR), September 20, 1999.
9B05M026
critical for manufacturers to assist merchants in effectively maximizing their retail floors. Providing merchandising and display avenues that enable retailers to market the high impulse nature of batteries would be a useful step."8 As a result, battery manufacturers have tried to meet the diverse needs of the retailers by providing different displays and other tools such as clip-strips, which are small hangers attached on the end of a grocery or merchandise aisle, to place batteries in limited spaces.
In 2000, discounters were responsible for 52.5 per cent of total dollar sales of alkaline batteries (see Exhibit 5). This figure has increased steadily during the previous four years from 48.7 per cent in 1996. Drug stores and supermarkets were the other two main suppliers for alkaline batteries in the market place. They held 23.8 per cent and 23.7 per cent of total dollar alkaline sales in 2000, respectively.
ALKALINE BATTERY INDUSTRY COMPETITORS
The alkaline battery industry had three main manufacturers: Duracell, Energizer and Rayovac (see Exhibit 6). While Energizer and Duracell had been competing for many years, Rayovac was a relatively new force in the industry. In 1996, these three companies combined to total $4.8 billion in revenues and operating margins of $832 million. Since then, revenues have increased by seven per cent to $5.2 billion and operating margins have decreased by three per cent to $807 million in 2000. In the context of the two main brands, Duracell and Energizer, revenues increased 1.3 per cent during those four years, and operating margins dropped by more than 10 per cent. The only company to experience growth in both revenues and operating margins from 1996 to 2000 was Rayovac.
Energizer Holdings Incorporated
Energizer Holdings Incorporated was the world leader in the manufacturing of dry cell batteries, selling more than six billion batteries each year. The company's wide variety of products included alkaline, carbon zinc, miniatures and rechargeable batteries as well as flashlights. Energizer currently produced two general brands of batteries: Energizer and Eveready.
Energizer Holdings Inc., which had been its own publicly traded company, was acquired by Ralston-Purina in 1986. At that time, battery products were separated into two divisions by brand. Zinc carbon batteries were sold under the Eveready brand, while Energizer became the major brand for the company in the alkaline market. In 2000, Ralston Purina completed a spin-off of its battery segment, and Energizer Holdings became a publicly traded company again.
8Quoted in MMR, September 20,1999.
9B05M026
In the alkaline market, Energizer had two major brands, the original Energizer battery and the more recent release of the Energizer e2. The e2 was launched in 2000 as a power source for more "high tech" devices such as digital cameras, CD players and cellular phones. While the original e2 was available only in smaller sizes, both brands soon become available in AA, AAA, C and D sizes. Energizer also manufactured rechargeable batteries for electronic devices as well as watch and hearing aid batteries. In 1997, Energizer held a 36.5 per cent market share of all alkaline battery sales. Since, then market share has dropped to just below 30 per cent in 2000. In 1994, the company generated $2.1 billion in revenues and an operating margin of $312 million. In 2000, the company reported $1.9 billion in revenues and an operating margin of $279 million. In the four years between 1997 and 2000, Energizer's revenues decreased, every year, and operating margins decreased three of the four years.
The Rayovac Corporation
The Rayovac Corporation was originally founded in 1903 as the French Battery Company in Madison, Wisconsin. Rayovac still had its world headquarters in that location and had grown to 3,300 employees. Significant growth was catalyzed by Thomas H. Lee's decision to purchase Rayovac in 1996 and to take it public. In 1997, an initial offering was made at $14 per share on the New York Stock Exchange. This was followed by a major facelift to the company's packaging and marketing practices.
Rayovac's main brand of disposable alkaline battery was the Rayovac Maximum. It was comparable to the products of Duracell and Energizer, but cost approximately 15 per cent less. Rayovac also engaged in the rechargeable battery market, selling NiMH and rechargeable alkaline batteries for consumer use. In the year 2000, Rayovac's revenues increased by 25 per cent and its operating margin was 66 per cent higher than that of 1999. Since its initial offering, Rayovac has had 16 straight quarters of increased growth in revenues. Before becoming a public company, revenues for the company were approximately $400 million a year. In 2000, Rayovac generated more than $700 million in revenues. During that same time period, Rayovac increased its total market share of alkaline batteries from 10 per cent to 12 per cent.
Other Competitors
During the 1990s, electronics manufacturers also began to enter the battery market. Sony was the largest supplier of secondary batteries to original equipment manufacturers (OEMs) and was also involved with the alkaline market. Sony's Stamina line of alkaline batteries was test-marketed in several areas. Sony claimed that these batteries performed better in the company's electronic devices. Kodak
9B05M026
also promoted this type of concept with camera batteries. Another large electronics producer, Panasonic, produced consumer-orientated secondary batteries and was slowly entering the alkaline market. Other smaller producers of alkaline batteries included RCA, Gold Peak and the more recent brand, Star Struck. Major retailers and supermarkets also began selling their own private label brands of batteries. However, these batteries were often manufactured by outside companies, including Duracell and Energizer, and then sold under the private label brand. In 1997, the total market share of brands outside of Duracell, Energizer and Rayovac totalled 11.7 per cent. In 2000, their market share had increased to 13.3 per cent and generated $350 million in revenues.
COMPETITIVE DYNAMICS IN THE ALKALINE BATTERY INDUSTRY
In May of 1997, Gillette announced restructuring plans at Duracell with an estimated charge of $283 million and anticipated layoffs of 1,700 jobs. A year later, Gillette made its first competitive move with its new battery business. At the same time as it was introducing its new Mach3 razor technology, Gillette made its first upgrade to Duracell's offerings. The "Duracell Ultra" was rolled out in May of 1998 in the AA and AAA sizes and featured 50 per cent longer life on "high-drain" devices such as digital cameras and portable CD players. Ultra did not replace Duracell's original "Copper Top" line, but instead the two brands were allowed to co-exist on retailer shelves. As it had regularly done with shaver technology upgrades, Ultra was priced at a 20 per cent premium over the older technology. In January of 1997, Gillette fired the long-time advertising agency associated with Duracell (Ogilvy & Mather) and hired BBDO (Gillette's advertising agency) to assist with the $60 million launch of the Duracell Ultra. The campaign promoted "More Power, More Life" (see Exhibit 7).
Duracell, however, was not the only player to upgrade its alkaline battery technology. Two smaller players, Sony and Panasonic had previously entered the market in the hope of leveraging their reputation in consumer electronics. Sony, which had never been a significant player in the alkaline segment but had long been involved in the development of battery technology — including the initial development and commercialization of the lithium ion rechargeable battery — introduced its Stamina line in AA size in February of 1997. Its introduction was supported by television, radio and concert sponsorships and used the message "So the beat goes on." Panasonic followed two months later with the Panasonic Plus alkaline in AA size for high drain devices, which it claimed was better than the industry leader. Like Sony, Panasonic was a highly recognized brand in consumer electronics and offered a full range of batteries including carbon zinc and lithium ion.
Rayovac also beat its two larger counterparts to the punch with its alkaline upgrade. It replaced its existing battery with the Rayovac "Maximum" in August
9B05M026
1997. The new battery was priced 20 per cent below Duracell and Energizer levels. Prior to the introduction of Maximum, Rayovac had employed basketball great Michael Jordan to promote its rechargeable line of batteries, Renewal. With the launch of Maximum, Rayovac spent $25 million on a new advertising campaign with the Chicago Bulls star and the tagline "Maximum Power, Maximum Value." An additional $30 million was spent one year later on the "Duracell Challenge," in which customers would receive their money back if Rayovac Maximum did not outlast Duracell and Energizer (see Exhibit 8).
Energizer, which had previously upgraded its AA and AAA batteries in August and November of 1997, announced in May of 1998 that it would come out with a new "Energizer Advanced Formula" battery in AA, AAA, C, D and 9-volt sizes. In contrast to Gillette's targeting of its upgraded offering, Energizer indicated that Advanced Formula was not designed exclusively for high drain devices but instead incorporated more active ingredients and patented resistors that made them applicable for all devices. According to Energizer internal testing and independent research, Advanced Formula could last 60 per cent longer than ordinary alkaline batteries and nine per cent longer than Duracell Ultra. A $150 million worldwide (US$70 million) advertising campaign employing the Energizer Bunny was used to help launch the product upgrade. In contrast to the launch of Ultra, Advanced Formula was introduced at the same price point as its previous alkaline, which it now replaced.9 As one analyst pointed out: "It's a classic example of two rivals trying to one-up each other. Duracell's going to have to reassess its strategy now."10
In February of 1999, Duracell announced the introduction in June of a "new" Ultra with a 20 per cent improvement in performance over the original Ultra and now available in C, D and 9-volt sizes as well. Duracell research showed that the new Ultra lasted up to 80 per cent longer in digital cameras, 60 per cent longer in flash cameras, 80 per cent longer in mobile phones, two hours longer in super boom boxes and up to three hours longer in halogen torches. The new Ultra also had an extended shelf life of seven years, up from the previous five, and was promoted with a $140 million advertising spend. According to A. Bruce Cleverly, senior vice-president, business management and business development, stated:
Duracell intends to continue delivering technological innovation
that electronic device manufacturers can capitalize on as they
design the next generation of high-tech devices. Offering this superior performing line of high-tech batteries will only fuel the
growth potential of the high-tech device base, particularly as it
Energizer had raised the price of its alkaline lineup four per cent in April of 1998. Tony Vento, Edward Jones analyst quoted in "Energizer Steps up Battle of the Battery; Its Long-Life 109
9B05M026
expands to include power-hungry devices, which use all of the
Duracell Ultra battery sizes.11
Just three months after the announcement of the new Ultra, Duracell took the competitive battle to the courtroom, charging Energizer with false advertising claims. A judge ordered the ads removed, claiming that the ads raised "serious questions as to the accuracy." Energizer's parent, Ralston-Purina complied. This was not the first time, however, that competitors in the battery industry had met in court. In August of 1998, Rayovac had filed a lawsuit to bar a former engineer from working for Duracell. In April of 1999, Rayovac sued Gillette, alleging patent infringement over hearing aid battery technology. Gillette ultimately prevailed with the judge nullifying Rayovac's patents.
In September of 1999, Gillette announced a round of layoffs and a restructuring. Gillette cut 4,700 jobs and shut down 14 plants, saving $200 million. Gillette indicated that the move was brought on by slumping sales in Asian and Latin American markets.
The series of technology upgrades and escalating performance claims by the major battery manufacturers caught the eye of the independent consumer testing organization that publishes Consumer Reports. In December of 1999, it published its findings on the relative superiority of the various brands, and concluded:
The moral on battery shopping is simple: buy by price. Most of the
time, the cheaper brand will work as well as costlier ones, whether
they're powering portable stereos, toys, wall clocks or flashlights.
Don't be put off by store brands; the ones we tested are as good as
the big names for most bread and butter uses . . . . Sales and bulk
packs can also save you money on many brands, big and small.
Consumer reports also commented that the "look" of many of the store brands (the dimples and indentations) matched those of the major brands. When asked about the potential connections between the store brands and the major manufacturers, an Energizer spokeswoman commented, "The relationship we might have with retailers is proprietary."12
The next competitive battery technology upgrade came in February of 2000 when Energizer introduced a "super premium" line of batteries named e2 Titanium. The product launched in June of 2000 and this time was meant as a line extension rather than a replacement to its Advanced Formula brand. The $100 million introduction of e2 Titanium did not employ the Energizer Bunny, which was to
1999. 12The case authors traced the patent numbers found on selected store brands to the major battery manufacturers. 11
9B05M026
remain associated with Advanced Formula only, but it did encourage customers to "take power to the next level." According to Energizer, e2 could, in some cases, last twice as long as normal alkalines and 78 per cent longer than regular batteries in regular cameras and 240 per cent longer than regular batteries in digital cameras. e2 was priced at approximately a 32 per cent premium to Advanced Formula and four per cent to six per cent higher than Ultra. In that same month, Energizer targeted the lower end of the market by introducing a value priced Eveready alkaline battery.
In the same month that Energizer announced e2 Titanium, Duracell announced its third generation of Ultra. Ultra with M3 technology would be introduced in September of 2000. M3 technology was "Packed with Power," and offered "More Fuel, More Efficiency and More Power." "More Fuel" as inactive ingredients were removed and more active ingredients added, "More Efficiency" due to reformulated ingredients that facilitated electron flow and "More Power" from patented and patent pending technologies that extended life and enhanced performance. A $70 million advertising campaign was used. Ultra with M3 technology arrived on store shelves with redesigned packaging but no increase in price.
Just prior to Kilts arrival at the beginning of 2001, Gillette attended to its traditional Copper Top line by announcing a new Duracell Plus that would be available in June of 2001. A $100 million advertising campaign touted that the improved "Copper & Black" technologies were designed to "Deliver Longer-Lasting Performance," marking the first change to the traditional Copper and Black line in nine years.
THE BOARD OF DIRECTORS MEETING
As Kilt considered the strategic options available to Duracell, he couldn't help but remember that his predecessor, Michael Hawley, had been fired after only 18 months as CEO, due in large part to an inability to reverse the trends at Duracell. It was apparent that, despite the initial optimism expressed by the company and the accolades from the investment community, Duracell had become a drain on Gillette's performance and had brought to an end Gillette's impressive earnings growth history. While selling off Duracell was certainly an option, would the board be willing to accept the implicit acknowledgement that the acquisition had been ill-advised? Were there other options, short of divesture, that Kilt could recommend to the board in two weeks that would turn Duracell around and return the Gillette Company to its former reputation as a dependable financial performer?
Exhibit 1
9B05M026
GILLETTE COMPANY FINANCIAL STATEMENTS
Balance Sheet
(for years ending December 31)
(in US$ millions)
Assets
Current Assets
Cash and cash equivalentsReceivables, less allowancesInventories
Deferred income taxesOther current assets
Total Current Assets
Property, plants, and equipment, net of accumulated depreciation Intangible assets, less accumulated amortizationOther AssetsTotal Assets
Liabilities and Stockholders' EquityCurrent LiabilitiesLoans payable
Current portion of long-term debt
Accounts payable and accrued liabilitiesIncome taxes
Total Current LiabilitiesLong-term debt
Deferred income taxesOther long-term liabilitiesMinority interest
Contingent redemption value of common stock put optionsTotal Liabilities
Stockholders' Equity
8.0% cumulative series C ESOP convertible preferred, without par valueUnearned ESOP compensation
Common stock, par value $1 per shareAdditional paid-in capitalRetained earnings
Accumulated other comprehensive IncomeForeign currency translationPension adjustmentTreasury stockTotal Stockholders' Equity
Total Liabilities and Stockholders' Equity
Source: Company files.
2000
1999
1998
1997
$ 62$ 80$ 102$ 105 2,506 2,527 2,943 2,522 1,162 1,392 1,595 1,500 566 309 517 320 1,489386 283 243 5,7974,682 5,440 4,690 3,550 3,467 3,472 3,104 1,574 1,897 2,448 2,423 625596 542
647 $ 10,402$ 11,786$ 10,864
11,902$ $ 2,195
$ 1,440$ 981$ 552 631 358 9 9 2,346 2,149 2,170 1,794 299 318233 286
4,1805,471 3,478 2,641
1,650 2,931 2,256 1,476 450 423 411 359 767 795 898 1,101 41 38 39 39 35999 277 407
8,478 7,359
8,726 6,023 - 85
90
93
- (4) (10) (17) 1,365
1,364 1,358 1,353 973 748 621 309 5,853 6,147 5,529 5,021
(1,280) (1,031) (826) (790)
(34) (30) (47) (20) (4,953) (2,172)(4,219) (1,108) 3,0601,924 4,543 4,841 $ 11,78610,402$ 11,902$ 10,864$
Exhibit 2
9B05M026
GILLETTE COMPANY FINANCIAL STATEMENTS
Income Statements
(for years ending December 31)
(in US$ millions)
2000
1999
1998
Net salesCost of salesGross profit
Selling, general and administrative expensesRestructuring and asset impairment charges Profit from operationsNonoperating charges (income)Interest incomeInterest expenseOther charges - net
Income from continuing operations before income taxesIncome taxes
Loss on disposal of discontinued operations, net of taxIncome (loss) from discontinued operations, net of tax
Net IncomeNet income (loss) per common share, basic Continuing operations
Disposal of discontinued operationsDiscontinued operationsNet Income
Net income (loss) per common share, assuming full dilutionContinuing operations
Disposal of discontinued operationsDiscontinued operationsNet IncomeWeighted average number of common shares outstandingBasic
Assuming full dilution
Source: Company files.
$ 9,1549,295$ 9,200 3,384 3,4993,392 5,7625,911 3,827 3,675 572 440- 2,0871,512 - - 223 136 6 3446 224 120175 1,288 1,912 467 664 (428) - (1) 12$ 392$ 1,0811,260$ 0.78
$ 1.14 (0.41) - - 0.010.01$ 0.37$ 0.961.15$ 0.77
$ 1.13 (0.40) - - 0.010.01$ 0.37$ 0.951.14 1,054
1,089 1,063 1,111
$
5,701 3,485 1,776
- 94 1,656 583 - 8$
$ 0.95 - $
$ 0.94 - $
1,117 1,144
Exhibit 3
9B05M026
STOCK PRICE OF GILLETTE COMPANY (G)
Compared to S&P 500 Index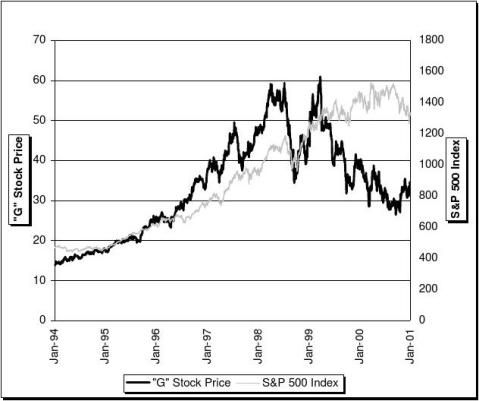 Exhibit 4 9B05M026
SALES BY BATTERY SIZE IN 2000
(in US$)
Source: Market Share Reporter.
Exhibit 5
SALES BY RETAILER TYPE
(in US$)
Source: AC Neilson data reported in mass market retail.
Exhibit 6
9B05M026
COMPARATIVE FINANCIAL AND TREND DATA
Duracell

Energizer

Rayovac

Source: Company files.
Exhibit 7
9B05M026
MARKET SHARE OF DURACELL PRODUCTS
(in US$)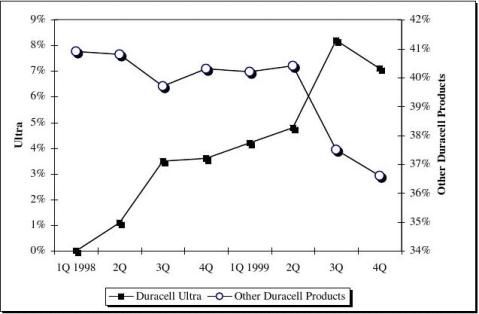 Source: Market Share Reporter.
Exhibit 8 9B05M026
MARKET SHARE BY BRAND
(in US$)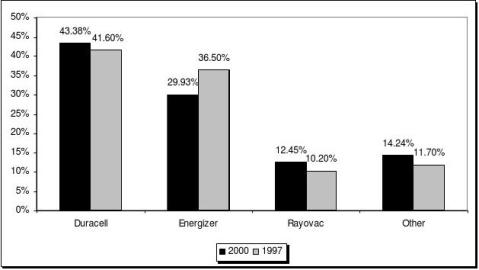 Source: Market Share Reporter.
+ 更多类似范文
┣
ARGUMENTATIVE ESSAY 10900字
┣
(no.1)从模仿中学习英语写作 7700字
┣
英国essay写作辅导解析 1000字
┣
高三英语教案 2500字
┣ 更多
argumentative essay 范文