21. Do you agree or disagree with the following statement? For success in a future job, the ability to relate well to people is more important than studying hard in school. Use specific reasons and examples to support your answer.
As a student in a complex society, we should learn the necessary knowledge in the school as well as the capability to relate well with other people. It is too simplistic to say which is more important between social skills and learning ability. I agree with this statement with reserved for several reasons. However, in terms of job, I prefer the ability to relate well to people is more essential in the long run than studying hard.
Admittedly, as a student in school, the primarily purpose is studying and acquire the basic knowledge. This is because this learning ability will lay a solid foundation for our future development even though we probably forget most of them. Otherwise, the social skills in the future job is like a building a skyscraper lack of cement and bricks. Take a business negotiation as an example. You can not achieve a great success only with your negotiation skills when you deal with others in the situation that you lack expertise knowledge about your product. Therefore, I regard studying in school as the foundation to your future success.
Further, the meaning of the ability to relate well to people in the job is significantly outweigh the specific knowledge you acquired. Specifically, everyone is interrelated and interdependent with others and this relationship requires you should equip with sophisticated communicating skills and social skills if you want to be a remarkable person in your job. This could be best illustrated with my country's culture. There is an old saying in my country: drinking ability is more essential than price in a business deal. Therefore, with deep-rooted intertwine
relationship among this society; you must have the ability to relate well with your partner or companion beside your basic knowledge.
What is more, there are lots of tasks that could be accomplished by different kinds of specialist and proficient. Nevertheless, to be a success leader in job, you must have the ability to communicate and coordinate with your team members with your sophisticated skills. According to the survey, most technology company boss even do not know the basic computer knowledge but they can be the boss and made their company increasingly giant due to their ability to relate well to people. That is to say, studying hard in school could make you require expertise in one domain but you never could be a great leader if you lacking the ability of social skills.
Having considered all the discussion above, both of these aspects are crucial to a person's success in the future job, but I suppose that the former capability could make you fulfill higher achievement.
第二篇:托福试题:TPO 21【精选】独立写作满分作文 4700字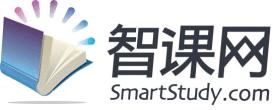 托福试题:TPO 21独立写作满分作文
智课网出品
TPO,全称TOEFL Practice Online,是ETS有偿提供给考生的托福备考材料,是ETS之前考过的托福试题,对于托福考生考前模拟和复习具有很大的价值,智课网为大家带来托福TPO 21独立写作试题并附托福作文范文及托福满分作文答题要点,考生们要认真备考。
托福TPO 21 独立写作试题: For success in a future job, the ability to relate well to people is more important than studying hard in school.
托福满分作文-范文赏析:
People in our times have more opportunities to succeed but they also have to face more fatal competition. Success in our society requires extraordinary efforts in addition to an element of luck and some social network since we are living in an age that emphasizes team work and cooperation. Weighing the importance of social network against hard work, I believe we have to be very clear about which field we are talking before we make a conclusion on which side is more important.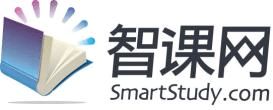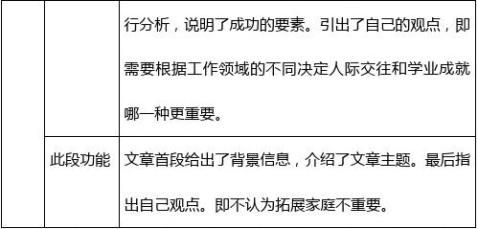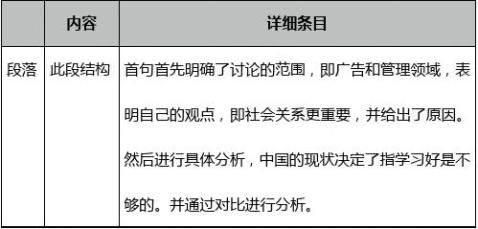 When it comes to the field of commerce and management, for example, social relationship plays a crucial role because success in this field requires a profound insight into what people are really thinking or what is really expected of us to behave in the society, explicitly and implicitly. In particular, China is a miraculous land where amazing things are happening all the time, most of which are rather inexplicable. Therefore, studying hard at school alone is insufficient. The school, or the teachers, may not be able to teach you everything, be it explicit know-how or implicit rules. On the contrary, you might continue to learn in the society when you realize that what you acquired at school is inadequate to handle the real-life issues because no one is too old to learn.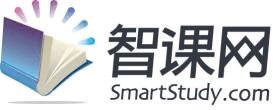 In education, similarly, being a good teacher requires you to have a good understanding of the students' characteristics and their special needs in order to establish some intimate relationship, or rapport, with them, which is of vital importance to the final outcome of students' learning and academic performance. Leo, my TOEFL oral English teacher, for example, is extensively regarded as a good teacher who knows how to improve our scores in TOEFL by finding numerous ways to relate to us. He virtually remembers every detail, every anecdote of us and makes good use of these for classroom interaction.
In terms of career success in the field of technological applications, such as mechanics, doctors and translators, I believe that professional qualification is of greater significance. In the field of literary creation, authors must demonstrate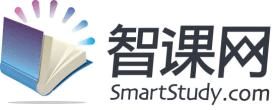 sufficient living experience but also need to maintain a detached perspective on life so as to guarantee their objectiveness and comprehensiveness. In some cases, the capacity of relating well to other people can prove to be counterproductive when it blinds their judgment. Therefore, the importance of relating well with other people should not be over emphasized or over generalized.
As an 18-year-old senior high school student capable of critical thinking, I think this is an open question. We should encourage students to study hard at school and at the same time, remind them of the importance of relating well with other people. This is the way out indeed.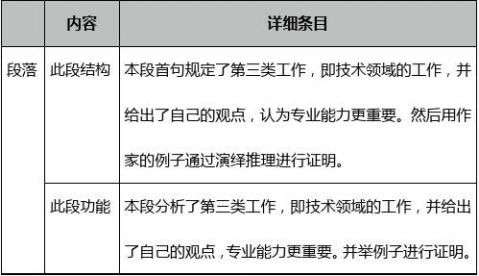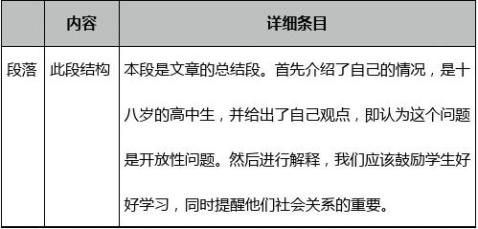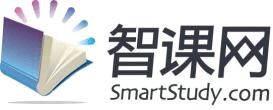 托福作文满分要素剖析:
一、 语言表达
本文多用长句,每句话中信息量丰富,体现出了作者严谨的写作风格。在用词方面,作者使用了不同的关联词,将句子连接起来,体现出了更强的逻辑关系。
1. People in our times have more opportunities to succeed but they also have to
face more fatal competition.本句是文章的开头句。首先作者用了后置定语in our times限定了people这个主语,之后用but转折词把两个分句并列起来。Fatal一词用的也很精彩,意思是致命的,使竞争一次更加生动了。
2. When it comes to the field of commerce and management, for example, social
relationship plays a crucial role because success in this field requires a profound insight into what people are really thinking or what is really expected of us to behave in the society, explicitly and implicitly. 本句篇幅很长。首先when it comes to是固定句式,表示"关于,讨论到",引出了话题。For example是插入语。主句之后嵌套了一个because引导的原因状语从句。A profound insight into表示"对于XXX的深刻认识",也是十分精彩的一种用法。最后explicit and implicit表示显性的和隐性的,修饰的是expected表示显性表现和隐性表现。
3. In education, similarly, being a good teacher requires you to have a good
understanding of the students' characteristics and their special needs in order to establish some intimate relationship, or rapport, with them, which is of vital importance to the final outcome of students' learning and academic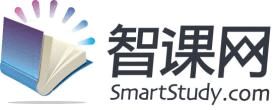 performance. Similarly表示"相似地",是一个插入语。主句中有一个and的并列句,and后省略了have a good understanding of。而中间的or rapport也是一个插入语,短语本身是establish relationship with。最后用一个非限制性定语从句修饰了整个主句,表明了重要性。
二、 逻辑结构
本文是一个总分总的结构。首段点明了自己的观点,即根据不同领域的工作决定社会关系和学业成就哪一种更重要。之后三段并列,分别从广告和管理领域、教育领域和技术领域三方面的不同要求证明了总论点,最后进行总结。需要特别注意的是作者的总结段采用了发散的方式,并非对分论点的简单总结,也是可以使用的一种结尾方式。
智课网温馨提醒:考生们拿到托福作文试题,审题后,先决定总体思路,然后列出两三个具体的分论点,每个论点找出一些例子来说明。这里要注意例子的选择,尽可能生活化、生动化、形象化,不要太死板,托福写作模板和范文仅供大家学习和借鉴,不要生硬的背诵。祝各位托福考生能够取得满意的托福满分作文。
+ 更多类似范文
┣
TPO34独立写作 2500字
┣
托福考试独立写作范文 3000字
┣
独立写作的模板以及总结 5900字
┣
十大托福独立写作中易犯的错误 3400字
┣ 更多
独立写作范文